Hello Concrete Pumpers!
We have been working on this for years in the background, and it has all come together, with a bit of magic and hard work.
We are really excited to bring this to the Australian Concrete Pumping Community.
Visit us at https://www.scheduleflow.com.
Paul & Natasha Tyrrell
PS
We would love your feedback 🙂 . Follow-us
Instagram: @scheduleflow
Facebook: @scheduleflow
Our Placement Feature Set is now Available…check it out
This solution can support businesses that are both Pumping and Placement or we can create a workflow that is Placement only.

Request a demo at try.scheduleflow.com/demo
Product Feature Release
Feature release notes can be accessed in date order (most recent at the top).
18 March 2019
Job Pricing vs Customer Pricing
We have introduced new fields on the Job page that allow a
Customer Renewal Reminder feature
This feature was introduced for customers that schedule maintenance jobs 6 or 12 months in advance and provides the opportunity to send the 'Customer Reminder' when the job is booked and set the 'Customer Renewal Reminder' in advance (set and forget).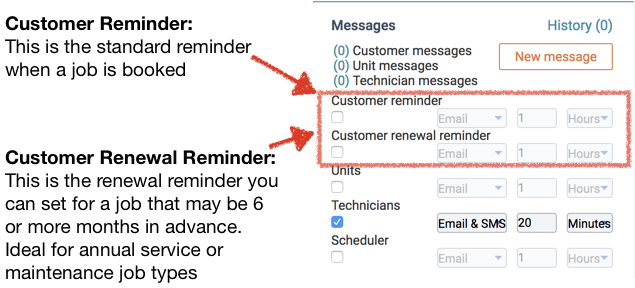 15 February 2019
Placement Job Management
We have enabled Placement to accommodate Businesses that have a Placement arm to schedule and manage.
This solution can support businesses that are both Pumping and Placement or we can create a workflow that is Placement only.  If you want to see this in action please request a demo at try.scheduleflow.com/demo

10 February 2019
Signature agreement text
You can now display text/link under the signature field so the person signing can see the signature agreement (ie link to your Terms & Conditions). This field is optional and you can leave all your signatures as they are but also handy if you want to increase customer acknowledgement at job completion.
If you would like to add an agreement text under your signatures you can do this in settings > custom fields by clicking on Edit agreement text on the signature custom field. Please note that this feature is only for custom field signatures, not for the general job signature. For further information see http://help.fieldinsight.com/
Other Items:
Supplier drop down will display entries in Alphabetically order
Added 'Post Code' to Advanced Job search criteria
Added email to display in the the Yellow Job hover box
Creation of a new Role 'Supervisor' to allow the central completion of Job information
Creation of new placeholders to be used on Templates, include Scheduleflow SmartDocket
Setting changes to turn on/off fields that display on the Scheduleflow SmartDocket
19 December 2018
Our last feature release for 2018.
Add Photo's to Generated Document Types (Quote, Invoice, Reports)
We have enabled an integration to QuotientApp, this is a 3rd party subscription (not covered by FieldInsight) but it allows you to do fancy quotes.
It will manage the quote creation and issuing (via email) and also approval (capture digital quote approval).  Once a quote is approved it will come across to FieldInsight as an Approved Quote that you can then use to schedule/manage a project (or job) and then manage an invoicing workflow off the approved items in the Quote.
Please refer to our Help document.  http://help.fieldinsight.com/advanced-fieldinsight-tips-and-integrations/quotient-app-integration-setup
Waze map integration
We now offer Waze maps (this is an alternative to Google Maps), we now support both.
Please refer help document as you will need to download the free Waze App (on any mobile device you use FieldInsight on).
https://www.waze.com/en-GB
Help document http://help.fieldinsight.com/advanced-fieldinsight-tips-and-integrations/enable-waze-map-navigation-in-mobile-app
Other
We have enabled drag and drop of a image file on to the job
If you use our Invoicing, we have created a new tab 'Overdue' where any invoice that has not been marked as fully paid will automatically move in to the tab once the due date has passed.  This makes tracking overdue invoices easier.
We have added the ability to include the customer email address in the Yellow Hover box.
We have added asterisk's to field that you mark as mandatory so they cant be missed.
We have allowed the ability to set Tech Notes as mandatory on job status change.
Finally dedicated Concrete Pumping Software
Problems we aim to solve Scheduleflow Smart Dockets?
Get 90% of timesheets automatically filled and reduce time to Invoice to days not weeks.
Managing multiple Pumps, Operators and Linesmen

Being on time

Capturing the right information at the right time

Double or triple handling of information

Lost information (riding around in trucks all day)

Invoicing is wrong due to pricing

Not getting paid for all the work you did
Common headaches about to be cured 🙂
Get allocation of tomorrow's job sheet out to Technician in 15 mins.
Over booked days due to double or triple booked Units or guys

Operators and linesman turning up to the wrong place or not turning up at all

Customer's aren't ready when you rock up to site

Your best customer mad at you because you completely forgot about their job

Chasing pricing sheets

Chasing dockets in your trucks

Late Invoices

Wrong Invoices amounts

Chasing timesheets entries

Wrong Timesheet information captured

Operator or Unit Not Inducted on arrival
Smart Quotes ™
Our Quotes know about Concrete Pumps, so you can quote Rate tables :). not boring old Invoice like Quotes.
You can say this 24m boom Hourly rate is 150 an hour, it's cubics are $7 a cubic metre, and it's travel is $150 an hour. And you can do that for all your Booms and Lines :). Still all highly flexible, to fit in with your business.
Quote knows your specific rates; Hourly, Cubics, Travel rates for each Pump Type

Quote can sit at a Customer Level

Quote can sit at a Job Level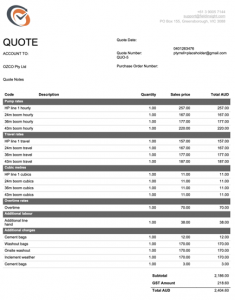 Each business has their specific quote and pricing information. Inventory items are Pump Type aware( *Hourly Rate, cubic rate, travel rate, Overtime) .
Allows for completion Smart Dockets reducing manual data entry.  
Scheduleflow Smart Docket(tm)
Dispatch – Get off the Phone!!!
1. Job capture
Capture Yard Start

On Site Time

Concrete Ordered Time

Pump Start

Pump Stop

Requested Pump

Actual Pump

Who's inducted at a site *.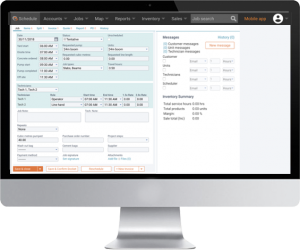 2.   Triggered dispatch SMS messages – Get on the Front Foot With customers and Operators/Linehands auto SMS them confirmed Job Schedules the day before, save hours a day of phone and SMS tag .
can now send each Tech their own Start Yard or Onsite,

individual times for each person with a click to select yard or Onsite.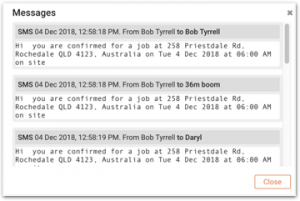 Mobile Digital Dockets (optionally if you want to get info from the field faster)
"One Page for the technicians in the field." for the field guys or do it all from the office and use SMS. 
Customer details: address, map link

ETA SMS

(one click)

Job Details, notes, requested pump, requested cubics, line, team

Job times, yard Start, onsite, concrete requested, pump start pump end, off site times – system fields

Timesheets for the guys, individual timesheets are 90% complete when the docket is done, no double entry (or atleast a lot less data entry.

Photos Pre and Post Job – No Butts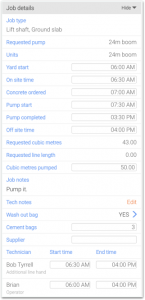 Smart Dockets Magic Confirm Docket Button 
We automatically calculate
Calculate your 
Hourly rate, catering for included operator and line hand

Cubic metres

Travel

Additional labour rates

Overtime (based on manually entered hours) uses quoted overtime rate for all linehand/operator
We ALSO automatically calculate 90% your guys timesheets
Allows Timesheet capture that save hours of time wasted chasing timesheets.  It happens all from the click before.
Captures Non Docket time: Yard Start to Onsite Time -> Gap between 1st & 2nd up job

Captures on Job Billable Time

Captures Captures timesheet from Yard start to Finishing the last job.

The guys still have to do the last timesheet entry.
Accounting Integration MYOB/Xero
Cut out the double data entry.
Flexibility is key, and having each Yard be able to work on Xero or MYOB lets you move faster.
Invoices can be sent from Scheduleflow

Invoices can be synced and sent from MYOB or Xero 

The key is to have a clean handover and remove double/triple data entry
Reports
Track your pumps value to your business, eaily see Cubics pumped by a truck, how many hours it's done and how much you have invoiced.
Unit Cubics Used, and $ Revenue generated.

Utilisation Report Hours for Units and Team members against target hours.

Timesheet report of all the guys, and even of the pumps, includes O/T columns for 1.5 and 2x.

Site Induction fields
Working on a Project, want to keep track of who is inducted.
Keep track of who's inducted
Inducted field for the guys

Inducted field for the pumps 

For a site
Save 30 minutes a job in admin time, that's 100 hours of admin per pump per year saved.
With happier customers.