End to End Job Management Software for Concrete Pumping
Simple and Easy
Automatic SMS & Email for dispatch
How much time do you spend on the phone, or your schedulers just taking calls all the time, with our SmartDispatch system, the jobs which are locked in for the next day can automatically fire off all the SMS to the Customer, and Operator and Linesman with one click. No typing.
Dispatch Fast, to stop being bombarded with phone calls
Keeping your Customers, your operators your linesman, your concretors all on track is hard work. Being able to with a click SMS your Customer with a ready message, your Operators letting them know their Yard Start time, your Linsman, and Operators letting them know their Onsite time is Golden.
Capturing information to Invoice Easily
Having a software package layed out for concrete Pumping is Great. Something fit for purpose, capture Yard Start Time, Onstie, time, Concrete Time. The capture of the right information simply, allows us to help you by automatcially calculating your hourly rate, your cubics your travel, additional labour, using our Smart Dockets (tm)
Report on your concrete Pump Utilisation
It's tough to manually chase up dockets, we streamline this process, by having the right information captured at the right, by making it easy. See Cubic Metres per Pump, Income per Pump, Pump Utilisation against targets, Staff utlisation against targets.
More Features
Live Scheduling
SMS one-click customers
SMS Operators and Linesmen
SMS Concretors
Customer Pricing Management
Quote by Pump for Customer/Project
Smart Docket(tm) to Invoice
Smart Docket(
Integrations
eWay - Get Paid Immediately/li>
Xero - Full and Fast
MYOB - Deep MYOB integration
Project Managment
P&L Reprort
Cost Projects
Progress Costs Visible
Finance Stuff
Quotes
Invoices
Purchase Orders
Placement
Scheduling Concretors
Timesheets for Concretors
Triggered SMS for Concretors
Fast Scheduling right person right time
Are you sick of
Lost & broken spreadsheets
Whiteboards out of date
Guys ending up at the wrong job
What would it mean if you could:
Instantly connect field and office
Invoice same day
See your P&L for all your jobs

"What is the ROI on going to Scheduleflow from whiteboards and paper. 30min per job is saved, you do 500 jobs a month, that is 250 hours a month saved, saving $7,500 straight away. But the real benefit is the organisation and professionalism that comes with Scheudleflow, improved Customer Satisfaction by the teams arriving at the right time, no more lost jobs, no more time chasing timesheets, looking for lost dockets, two teams turn up to the same job, one team has no linesman, customer forgot you were turning up, no access to the site, Non Inducted pumps turn up, non Inducted teams turn up."
Jack - Owner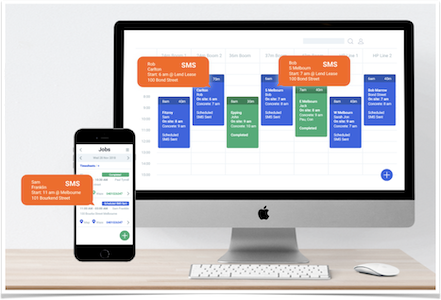 ---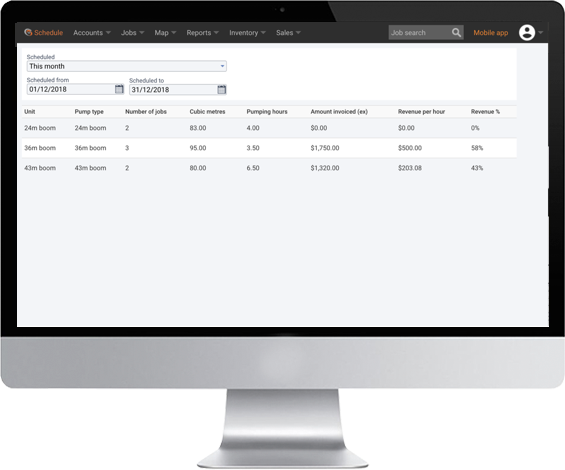 Get your Financials under control
Are you sick of
Sick of finding out you lost money on a job
Cashflow sucks because invoicing late
Low quote acceptance when too slow
What would it mean if you could:
Quote same day
Invoice same day
See your P&L for all your work

We would like to say we appreciate how wonderful you guys have been to work with, and how you have made our job a lot easier with your booking system. Whenever we call to give you guys another idea to help us with our booking nothing is a problem, and to top it all off you are not too expensive. I have worked on booking systems for 20 years, & yours is by far the easiest. Thanks guys.
Tania and Sean Donnelly - Owners
---
Supporting team accountability
Are you sick of
Sick of incomplete paperwork
Lost jobs because you couldn't read the tech notes
Call Back's because a step was missed again
What would it mean if you could:
Simple Workflow Guides for your team
Invoice same day
Fast and Easy for your Tech's

FieldInsight has been awesome it has transformed the way we manage our tech's time's, everyone is happy, and our team are capturing key information, saving stacks of time.
Eamon Keena - Owner & Service Manager